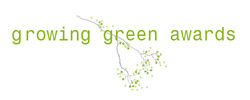 Keynote: "Using Design For Change"
Designer, architect, builder, author and teacher Emily Pilloton will headline USGBC-Missouri Gateway's fifth annual Growing Green Awards celebration on March 28 at the Palladium.
An industrial designer on paper and high school teacher in practice, Pilloton began a bold immersive experiment in an impoverished rural North Carolina county to prove educational challenges can be conquered with design solutions. After living half the year on the east coast and other half in San Francisco, she decided to move to North Carolina to fully invest in working with students by teaching design for change.
Growing Green Award attendees will hear Pilloton explain how intersecting design and public education can nourish life, empower communities and transform public education. She will describe how they successfully put this philosophy into practice and enlivened a rural community.
The Missouri Gateway Chapter of the U.S. Green Building Council sponsors the Annual Growing Green Awards celebration from 5:30 – 9:30 PM on March 28 to honor individuals, companies and organizations that are making a difference in green building locally. See the list of nominees below. One winner in each category will be announced on March 28. The celebration includes cocktails, networking, dinner, dessert, keynoter and on-site parking. The community is invited to attend the gala and advanced reservations are essential.
To reserve online, type in www.usgbc-mogateway.org/green-awards or call
314-577-0854 with any questions. Until March 18, tickets are $75 each and after that date, tickets are $85.
Growing Green Awards Nominees
COMMUNITY CHAMPION
Joe Edwards – Moonrise Hotel
Barry Greenberg – Architectural Design Guild
Randall Lewis – Walsh & Associates
Old North St. Louis Restoration Group
EDUCATION
Josh Davis – The Green Finned Hippy
Dr. Robert Dillon – Maplewood Richmond Heights Middle School
Gay Lorberbaum – Washington University in St. Louis
Nancy Jane McClintock – Center for Creative Learning
Mehlville School District
Jenny Murphy – Perennial
Schlafly
Southwestern Illinois College
EMERGING LEADER
Courtney Howard – Cannon Design
Mary Lou Green – Brightside St. Louis
Annemarie Nauert – Sigma Aldrich
INNOVATION
City of Ferguson
Cannon Design
Day & Night Solar
Flooring Systems, Inc.
Graybar Electric Company, Inc.
SWT Design
OPERATIONAL EXCELLENCE
Joseph Abernathy – St. Louis Cardinals
Cannon Design
Novus International, Inc.
Parkway School District
John Woods – Save-A-Lot
SWT Design
RESTORATION
Patty Maher – Tiger Lilly Development
Paric Corporation