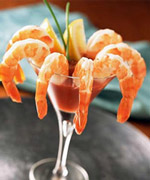 by Kari Hartel, RD, LD
Program Coordinator, Cooking Matters, Operation Food Search
As we gather together with loved ones to celebrate the holidays, there is no doubt that an abundance of decadent, tasty foods will be at the forefront. But with so many tempting treats around, it's easy to go overboard and overindulge. And since the majority of celebratory foods are high in fat and sugar, the calories can add up quickly. You might be thinking, "It's just one day, can it really make that much of a difference in my weight and my health?" The problem is that most people don't overindulge for just one day—they turn the time between Thanksgiving and the New Year holiday into a more-than-month-long eating frenzy (all those leftovers, all those treats!). But don't worry; we've got ideas for healthy ways to enjoy the holidays.
A Few Tips to Help You Enjoy Festive Finger Foods in a Healthy Way
Prepare a healthy appetizer yourself and bring it to the party. This will ensure that you have a light option available. If you're hosting, try to provide at least one lower-calorie, nutritious option, such as fruit or veggie tray.
Always use a small plate when eating appetizers. If you linger around the hors d'oeuvres, you're more likely to keep taking bites until you're stuffed. Stick to one plate of your favorites and spend the rest of the time mingling with other guests or offering to help the host.
Try to avoid eating too much dip. Most dips are notoriously high in calories and fat, and all too often people serve themselves way too much. A typical serving size for most dips is only about two tablespoons. That's equivalent to the size of two thumbs
Anything fried or covered in cheese is going to be a calorie bomb. If you must have it, have a small amount and fill the rest of your appetizer plate with lighter fare.
Some Light Appetizer Options
You generally can't go wrong with fruit or veggie trays. These foods are packed with nutrients but are low in calories. Just be careful not to use too much dip. You could also serve the fruit with a low-fat yogurt dip and the veggies with a light ranch dip (you could make your own using fat-free Greek yogurt and herbs and spices) instead of the full-fat version.
Low-Fat Lox – smoked salmon is a protein powerhouse loaded with heart-healthy omega-3 fats. Top some whole-grain crackers with reduced-fat cream cheese and smoked salmon and you've got an elegant yet light appetizer.
Vegetable and Reduced-Fat Cheese Skewers – assemble cherry tomatoes and lower-fat cheese cubes on little skewers for a fun, healthy snack. Shrimp cocktail is always a lean, protein-packed option. To cut the calories further, make your own cocktail sauce using less sugar.
Operation Food Search is partnering with Whole Foods for our "Grab & Give" campaign through the entire month of December. Check out the "Events" tab on our website (www.operationfoodsearch.org) for more information on how to help buy a meal for a local family in need.