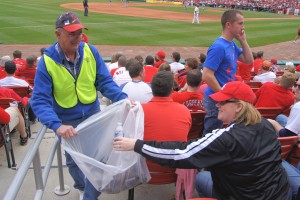 The St. Louis Baseball Cardinals began the "4 A Greener Game Program" at Busch Stadium during the 2008 season as a two month pilot program.  After tremendous success, the program now averages over 25 volunteers per game with numbers increasing year after year. Since its inception, the program has diverted over 1,836 tons of recycling and over 575 tons of yard waste from the stadium trash disposal and local landfills. The program's success can be partially credited to 550 conveniently placed recycling bins around the stadium, making it easy for fans to recycle when they come to a baseball game.
Success is also due in large part to volunteers on the St. Louis Cardinals Green Team who collect recyclables during games, and the maintenance staff who separate additional recyclables from the trash after a game. With the help of the Green Team, over 535 tons of materials was diverted from local landfills.
The St. Louis Cardinals are looking for friendly volunteers from local colleges, community organizations, church groups – even friends and families – to join the "4 A Greener Game" initiative and help collect recyclables from fans throughout each 2012 home game at Busch Stadium.
The Green Team volunteers will walk down the aisles of the seating bowl in-between innings collecting recyclables from fans and promoting recycling at Busch Stadium.  Volunteers are asked to arrive 45 minutes prior to game time for a brief training session.  Recycling collection begins in the 2nd inning, continues throughout the game and ends 15 minutes following the conclusion of the game.
In exchange for their services, volunteers are able to watch the game in standing room only sections of Busch Stadium, as collections are only done in-between innings and during pitching changes so as not to disturb fans trying to watch the game.  Volunteers will also be entered into a monthly drawing for prizes such as autographed items, memorabilia, and tickets to an upcoming game!
For more information or to sign up please visit online at www.cardinals.com/greeen or e-mail 4agreenergame@cardinals.com.