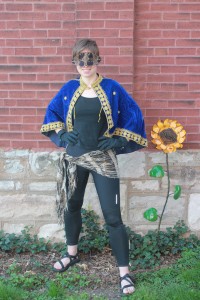 By: Orb (aka Cassandra P. Hage, St. Louis Earth Day)
As promised in last month's article, I have mused, researched and reflected to determine an appropriate Superhero identity. This April, I am pleased to unveil… Orb. My inspiration for this newly developed Superhero Self, is based on Orb-weavers – a fantastic and complex segment of the spider family. They are the best web weavers in the business, both technically and artistically. When spotted, their beautiful dew-dazzled webs are one of the simple, beautiful joys of nature that can remind us all to take pause to enjoy the many awe-inspiring things occurring around us. My superhero powers are derived from my totem arachnid – I can weave beautiful webs that lure people in, and inspire reverence of the beauty and power of nature. I have been working on a masterpiece, which I invite you to check out – the 23rd annual St. Louis Earth Day Festival! Here is an overview of what you can experience when you join us:
•  Live music and cultural performances on three stages, local food and hands-on activities for all ages will keep you busy for the whole day. Over 200 artists, educational exhibitors, food vendors, businesses and organizations will share how ordinary people can do extraordinary things. Real Life Superheroes will be making a special appearance to share their journey.
•  A collection event for hard-to-recycle items returns to the Festival for a second year, including the DEA Medication Take-Back Initiative. The Recycling Extravaganza will take place in the parking lot of the St. Louis Community College Forest Park campus, off Oakland Avenue, 9 a.m. to 3 p.m. A full list of acceptable items, including everything from computers and appliances to light bulbs and carpet, is updated regularly on www.stlouisearthday.org so you can plan your spring cleaning accordingly. Biodiesel and CNG shuttles will transport guests from the Forest Park campus to the Muny grounds.
• Making its debut this year is an opportunities fair in partnership with St. Louis Green Jobs. The free fair will be held during the Festival under the West Pavilion behind the Cafe Stage on the Muny Grounds, featuring regional employers and educators.
Participating organizations and companies include the "green" side of the following industries: building/construction, design, manufacturing, agriculture, energy, waste/remediation and public administration (to name a few). Learn about what courses, degrees and certificates are offered at area colleges, universities and trade schools relating to sustainability and green jobs.
• A host of local entertainers will be performing at this year's Festival, including the Funky Butt Brass Band, Farshid etniKo, iLLPHONiCS, Scarlet Tanager, The Five and Dimers and many more! Musical performances begin at 11 a.m. and continue all day on two stages. The Performance Pavilion features a variety of local entertainment including dance, capoeira and acappella groups, concluding with a special performance by the Shakespeare Festival St. Louis at 5 p.m. Visit the Green Strum Project booth to learn more about connections between sustainability and music—the Green Strum Band Scramble will close the Café Stage when participating musicians put their recycled instruments to the test in front of local celebrity judges—hosted by Ryan Spearman and Kelly Wells of The Lulus.
• Starting at 10 a.m., you can join the Teachers' Recycle Center on the Festival grounds to create a musical instrument, mask or prop to carry with you in the All Species Parade using re-purposed materials. Impish Grin Face Art will also be available for free face painting until 11 a.m. The Honorable Mayor Francis G. Slay will kick-off the All Species Parade, led by the Joia World Percussion Ensemble, at the opening ceremony which begins at 12 p.m. from the main stage.
• Over twenty food and beverage vendors will be serving up diverse, local cuisine and drinks throughout the Festival. Schnucks will be showcasing products from its Full Circle organic line in the Earth Day Café where you will find organic vegetarian jambalaya, empanadas, St. Louis style barbeque and everything in-between. Schlafly Beer will be serving Organic Pale Ale and other favorites and The Royale will be serving up special Earth Day cocktails by the Main Stage. Stop by the Nature's Own booth and receive coupons for free Nature's Own products and other giveaways—make sure to enter for a chance to win free bread for an entire year!
• A themed-neighborhood layout makes it easy for visitors to navigate the Festival and experience all the celebration has to offer. Visitors can explore the following neighborhoods: Alternative Transportation & Fuels; Arts & Crafts; the Earth Day Café; Energy & Green Building; the Farmers Market; Home & Pets; Nature, Recreation & Wildlife; Reduce, Reuse, Recycle; and, Wellness & Spirituality. Visitors are also invited to reflect upon their experiences and connect with the Earth at the Peace Garden, where activities will take place throughout the day. Free yoga will be offered by area instructors—bring a mat to enjoy the open-air experience.
• Over 30 Educational Exhibitors are scattered throughout the grounds, present in almost every neighborhood with a wide range of hands-on activities for kids and adults. Visitors can engage in activities that use storytelling and ecosystem models, or learn about upcycling by creating something with re-purposed materials. The Ameren Missouri exhibit provides information about energy efficiency and conservation, and the Chipotle Cinema in the Farmers Market features short films about "food with integrity".
Find your inner superhero at this year's Earth Day celebration on Sunday, April 22nd from 11 a.m. to 6 p.m. on the Muny Grounds of Forest Park. Please, come join us (I know you can't resist)… but no worries – my policy is catch and release!
If you are interested to learn the Superhero Identities of the other St. Louis Earth Day Staff (this Orb-weaver doesn't work alone!), visit our website and check out our newly-released profiles – complete with pictures! Have we inspired you? Post your identity and superpowers on our website!
The St. Louis Earth Day Festival is grateful for the support and partnership of many local businesses, companies and organizations. This event is presented by Nature's Own and sponsored, in part, by Ameren Missouri, Chipotle Mexican Grill, Missouri American Water and Schlafly Beer. For detailed information and a complete list of sponsors, or to volunteer, visit www.stlouisearthday.org.
Take the Earth Day Challenge by bringing a bag for purchases, a water bottle to refill or use alternative transportation to get to Forest Park. Visit our website for ideas on how to "travel green" to the Festival. Visitors who accomplish two of the three challenges will receive an eco-friendly prize at the Information Booth!