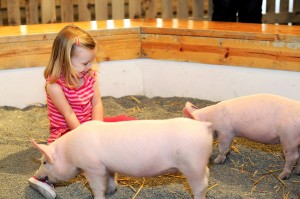 Spring is right around the corner, and at Purina Farms, it means it's time to welcome baby animals as part of the annual Springtime Village celebration.  Taking place March 21st through April 7th, Springtime Village is a chance for animal lovers of all ages to play with barnyard babies like bunnies, chicks, and piglets as well as enjoy all of the favorite family-friendly activities regularly offered at Purina Farms.
Decorated eggs surround the Visitor's Center where all the fun takes place.  Upon arriving in the front lobby, kids ages 12 and under, who are visiting on either a Saturday or Sunday during Springtime Village, can choose one egg from an egg-filled wagon with one special "golden" egg* valued at $100! The other eggs are filled with tasty candy, so everyone is a winner!
More fun awaits outside where kids can get their faces painted with beautiful pastel designs and they can create their own work of art out of sand.  One of the highlights of Springtime Village is when a special bunny named  Peter Cottontail shows up to pose for photos with visitors.
In the West Barn, kids can play in the corn troughs, take turns on the rope swing and walk around the hayloft petting animals and even meet some adoptable puppies from a local shelter, who are looking for a forever home.   At two times during the day, visitors can watch a cow-milking demonstration for a real taste of Purina Farms. Flower Power is a new activity in the barn in 2012 where kids can grab a Spring flower out of the Purina Farms garden to see what prizes they win.
Right outside of the barn, the dogs and cats in the Pet Center can't wait to get up close and personal with admirers.  The multi-story cat house is home to more than 10 different cats of all sizes and breeds.  Bindi the Boxer and Fergie the Bearded Collie are two of the "can't miss" canine residents at the pet center as they are always willing to wash visitors' faces with doggie kisses every chance they get. For some high-flying action, visitors can watch one of the daily canine performances put on by the Pro Plan Performance Team in the Incredible Dog Arena.  Demonstrating the most popular dog sports of flying disc, diving dog and agility, the Team, which is made up primarily of rescued dogs, emphasizes the importance of proper training, good nutrition and lots of love when it comes to bringing out the greatness of any dog!
The visit is complete with a wagon ride around the property and the best news of all is that all of this fun and entertainment is free.  Call now for reservations – 314-982-3232 – or visit us online at www.purinafarms.com to find out more about the annual Springtime Village event.