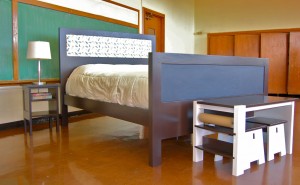 After four years of creating healthy, sustainably minded environments for St. Louis families, Rethink Renovations has made a move to expand on their passion for bringing sustainability to your home by introducing their first line of eco-conscious furniture.
Gail and Barrett Elwyn, owners of Rethink Renovations and parents of two young children, understand first hand the importance of creating healthy environments at home and wanting to provide the healthiest possible products for their kids.   This first-hand experience and passion for sustainability provided the drive to create a line of furniture that would fulfill this need in other households as well as their own.
With a recommended daily sleep average of 10 hours and plenty of play in between, children ages 5 through 10 sure do spend a lot of time in bedrooms and play areas! Rethink Renovations' new line of eco conscious children's furniture strives to make that time spent sleeping and playing worry-free for environment and health conscious parents.
"We started with original designs by Rethink Renovations, added the skilled hand of local woodworkers Turnure Carpentry, and sourced domestic solid hardwoods, cut and processed by WunderWoods in St. Charles.  All pieces are finished in water based, no VOC milk paints or clear coat.  The whimsical fabric is certified organic cotton out of Washington state.  With its clean lines nodding to traditional roots, the School House Collection offers classically simplistic pieces that can grow along with your child. Whimsical fabric choices, interchangeable panels, and magnetic chalkboard will keep learning fun and approachable every day.
"We are proud to introduce the School House Collection to you and your family.  You can feel confident that this is a low VOC, domestically sourced, heirloom quality, hand-made piece for your child.  Feel good about those hours of sleep, play, and learning happening in your home with the School House Collection of eco-conscious furniture."
Rethink Renovations will be at the 2012 Healthy Planet Natural Living Expo and the 2012 Earth Day Festival.   Come check us out and chat about sustainable renovations and our new furniture!  We will have School House Collection pieces on display and available for sale.