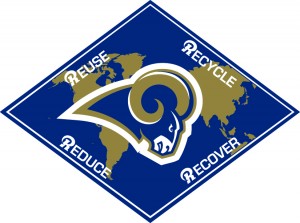 By Craig Jung, Healthy Planet Green Living Editor
In 2007, the St. Louis Rams established their Greening Platform and later established the Green Team which has proved to be a huge success for the Rams and the fans.  The focus of their efforts, while mainly on waste reduction, recycling and energy conservation, has also embraced many other sustainable efforts.  These additional green practices include printing media guides on 100% post consumer paper, establishing a food donation program with Operation Food Search and the Levy Restaurants and composting the prep food scraps out of the kitchens, to name a few. Last year the Green Team collected recycling at three home games and hosted the first Green Game and Expo. While those games proved to be a success, the Ram's Green Team is collecting recycling at each of the 8 home games and hopefully a few playoff games this year.
"The St. Louis Rams are excited to announce our second annual Green Game on October 30 at the Edward Jones Dome," said Lisa Boaz, Marketing Manager for the St. Louis Rams.  "Since our involvement in the NFL's first carbon neutral game in 2005, the St. Louis Rams have been committed to establishing and growing our green platform with the intention of identifying authentic opportunities with local partners to reduce our carbon footprint. We look forward to highlighting these initiatives throughout our Green Game and the rest of the 2011-2012 season."The Rams have recently offset 100% of the electricity used at the Edward Jones Dome during all 8 regular season home games with Pure Power mypurepower.com.  They have also purchased carbon offsets to offset their team flights to and from all eight away games this season.
As on the field, team work has been a huge force behind the Rams greening efforts. The Rams pulled all the partners together to make the Green Platform happen.  It takes a great deal of people, companies, and organizations to make success like this work.  Congratulations to the Rams for their efforts.The 2011 Green Game will be against the New Orleans Saints on Oct. 30.  The program is a great compliment to the ongoing single stream recycling efforts of the Edwards Jones Dome and America's Center.
If you would like to help out at any of the games please email marketing@rams.nfl.com.